Hello crafty friends, Martha Lucia here to share with you a new Bible Journaling Page. Refuel My Soul is a new stamp set from Color by Faith Collection by Joy Clair and it is also a great set to create to create cards or projects inspired on adventures. Today I want to share with you a fun and quick technique that you can use over your Bible or journal to create a colorful background using watercolors and a plastic bag. Take a look at my page: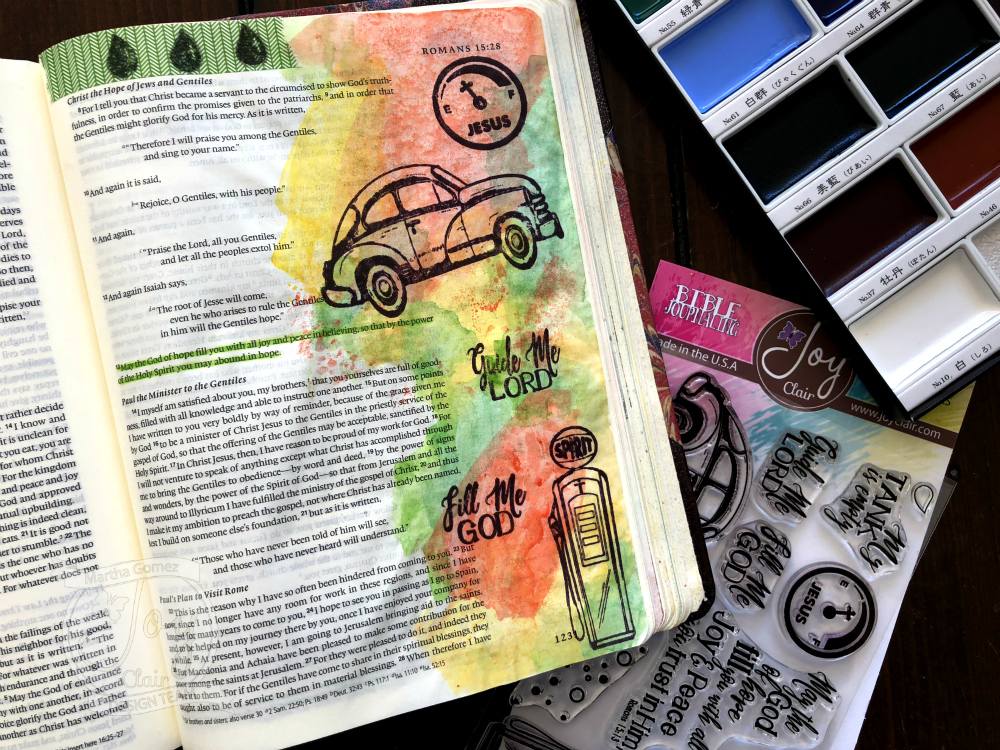 Maybe you are asking a plastic bag? for what? Well it is for smooth the color. It is simple and the plastic remove the excess of water and let the paper dry faster.
Take your favorite watercolor paints and select your colors. I am using Kuretake Gansai with a paint brush.
Start applying the color with a paint brush and smooth the colors with a plastic plastic blag.
Repeat the process with each color that you want to use and mix the colors. 
Let the paper dry or speed the process with a heat tool.
Stamp your images from the stamp set Refuel my Soul with a dark ink. I used Versafine Imperial Purple. 
If you want you can add more color when the ink is totally dry but  in this case you need to use another different type of ink like Mementos.
Easy and simple but this type of color texture add to your bible or journal a different look and if you are like me that don't like to cover the scriptures with the paint brush and the plastic bag you can control the movement of the colors.
The Color by Faith collection is full of stamp sets that you can use for your bible pages, journals or cards. You can find the entire collection HERE and usually the stamp set are are exhibit with samples to give you inspiration and ideas.  
Thank you for stopping by today and I just recommend you that experiment with your inks and your stamps. Try different colors and find your ways to create just what you like and feel happy with your creations, because it is the best way to Refuel My Soul!
See you soon!!
SUPPLIES:

Refuel My Soul by Joy Clair
Shop at:
JC

MISTI Original
Shop at:
SB | HSB

Kuretake Gansai Tambi Set - 36 Colors
Shop at:
SB | HSB

Versafine
Shop at:
KC | OTS | HSB

Aqua Painters
Shop at:
OTS

Heat Tool
Shop at:
OTS | SB | HSB